It's not often that we get to write a not-so-favorable review of another blog. It's been our thing to promote those blogs out there that deserve to be read because of their witty, entertaining content or the diversity of their views and insights. This is not one of those times.
I've become aware of a certain... change of direction in one purely fashion SL blog to a more "hard-hitting" and scandalous style. It's their blog, they're entitled to write what they want however they see fit. I'd just like to point out that grand-standing and name calling do not make you a better writer or "journalist". Nor can you ascertain the talent of a "writer" by counting the number of comments on a post. Just a lil reality check :)
All these things and more can be said about the second blog I bring to your attention. Perhaps you've seen it. It has all the characteristics that a potential blog-reader/dramite would appreciate. The only problem is... it's total crap. Brutal Honesty is what they offer although all I've seen so far is the poorly written whining of a have-not couple in SL.
I'm all for expressing your opinion, but maybe offer alternatives? Just a thought. Why not lend credibility to your opinion by covering all aspects of something? Can you not find value in it? Or maybe this is a game of smoke and mirrors. Honesty is something that is in short supply in SL but it can be done with eloquence and reason. Trash Talking is just that. Trash. And yappering. Anyone can pick up the Sun Times in line at the grocery store. Doesn't mean they have taste... or can read.
Seems as though this blog will do well enough. There are plenty of glass is half-empty people in SL and everyone is a critic... or a hyper-critic in this case. Check it out. I can't promise that it will do much more than make you say "OMG". And despite their claim that it's not 'drama', I'm sure that's just what they'd want you to say :)
You be the judge.
~Rosie
*:-.,_,.-:*'´*:-.,_,.-:*'´*:-.,_,.-:*'´*:-.,_,.-:*'´*:-.,_,.-:*'´*:-.,_,.-:*'´*:-.,_,.-:*'´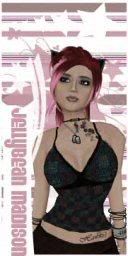 As a Mean Girl I take pride in my posts. I love that I can be honest, humorous, throw in a little satire & get good old fashion feed back without starting a firestorm (on purpose - sometimes ya'll just don't "get" me). I think that in any case it has been noted that here at MGG2SL we've had some drama here & there, sometimes we stir pots that others don't dare touch. We do it because we care and it's a risk we choose to take. We're not afraid to tackle controversial issues that effect our daily slives, piss us off, or tell you our honest opinions on a designer's work in a non-combative way. Honestly, sugar coating, pussy footing and blowing sunshine up one's ass does not encourage growth. Same can be said for screaming like a lunatic in someone's face. You're not going to get desired results or a happy ending. You know you want happy ending. *wink*
There is a difference between not sugar coating & maliciousness. Yes, our blog is called "Mean Girls Guide to SL" and it's fitting for us. Mean & malicious have two different definitions... Look em up, it's not my job. Point is a lot of blogs have popped up over the vast blogosphere in the last couple of months. Some are well written, honest, witty and enjoyable to read (these are the ones we choose to post weekly as a "Blawg to Watch"). Others though read more like tabloids stabbing individuals with words and read of overall crap. I noticed the tide turn in the particular "fash" blog, and I think it's cute. Awww. As for the BH blog, within two posts they completely contradicted themselves. Drama, maliciousness, anger, shock (did they really say that?) makes a popular blog unfortunately. Not necessarily a "good" blog. It's like a train wreck, you feel the need to see the gross stuff. Why? I have to agree with Rosie, "
grand-standing and name calling do not make you a better writer or "journalist
"... it just makes you an ass. If that's all you have to offer, I would like to suggest you sit down & re-evaluate being a blogger of stuff.
I am flattered as I'm sure the rest of the MGs are about the many blogs popping up taking a more honest approach in the footsteps of what we do here. For those of you doing it wrong, we appreciate you trying, but we got this, kkthnx.
♥JellyBean♥