Spotting a slut tip #1
Laylah: if you can fuck her without removing or re-arranging any clothing then she's probably a slut. Case in point - the slut-skirt. I don't see any panties.. and at that length I should be able to. She might as well be wearing kneepads for all the wear-and-tear she'll be getting.
JellyBean: Easy access is always perfect for a quickie in an alleyway, backseat, parking lot, trash dumpster, etc. etc.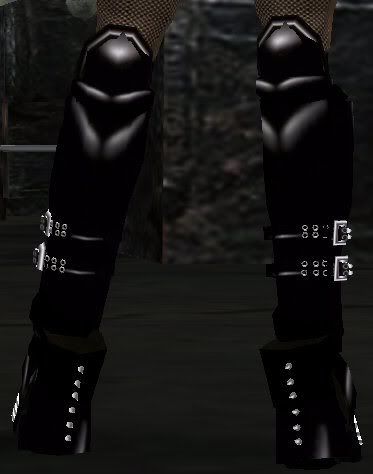 Spotting a slut tip #2
Laylah: Ha - the kneepads. See, I told you. Slut. If the boots go over her knees, it's not a fashion statement.. it's to hide the scars from past rug burn and prevent future injuries.
JellyBean: Safety first! Especially in this lifestyle, one can't let them know she's not as sweet & innocent as she's trying to make herself out to be. This is where dark places come in play if she's asked to remove her boots.
Laylah: Notice the heavy hardware on these boots - That's to prevent kneepad slippage. Yeah, this one is strapped in and ready to go.
Spotting a slut tip #3
Laylah: See these lips? 9 times out of 10 sluts will have the textbook 'face you want to fuck.' Those full lips are bred in from slut generation to slut generation, humans adapt to their surroundings. Blow job lips are a necessity in the slut lifestyle. Who wants to get head from a bitch that's all teeth? These bee stung pillows of flesh are easily pulled in and over the teeth to keep your blow jobs all tongue-and-sucking.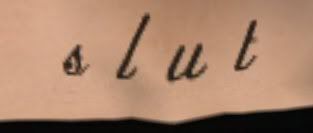 Spotting a slut tip #4
Laylah: The Tramp Stamp (tm)! is the lower back tattoo. Might as well be a bullseye. If you're lucky it'll tell you just how easy she is. Words like "Slut" "Whore" or "Free" are good ones. Don't be put-off if the tattoo says something like "Daddy" or "Innocent" though, the Tramp Stamp (tm) has and will always mean she's a slut, regardless of what it says.
JellyBean: If it's in a foreign language, just assume it says "Cum here". You'll probably be right.
Laylah: It's really too bad that SL doesn't give you diseases. Someone should make a free copy/trans skin with herpes around those BJ lips... Or crack pipe scars. Then we could give them out to the whores.Or draw meat curtains hanging down their legs. Prim meat curtain attachments for SL porn stars! You know those bitches aren't tight. Just jumping from pose ball to pose ball with every Tom, (Dick), and Harry.

Oh, Snap!
An MG Blawg Post Series with Laylah & JellyBean.
Two views on fashion, faces, and unfortunates combined into one general consensus.