Laylah: I just don't know where to start with this one. I'll say that, overall you can tell a crossAVer by their body type. Men see women in a series of features as they differ from their own. Hair, tits, and hips.
JellyBean: Serious mental issues guys. Is it cause your mommy didn't hug you as much as you wanted?
Laylah: So, the easiest way to spot one is, obviously, to note these things. In the first picture you see the massive hips and the small waist. This is very common, as is the huge (and badly done) tattoo .. or are those panties? Either way, it's an overly fem icon, as if to say "Look at me, I am a pretty girl. I like butterflies."
JellyBean: Really I think the crossAVers just want to feel themselves up or look at themselves naked. I don't think in most cases it's to attract the opposite AV sex. If it is, ewww! you sickos.
Laylah: Real women do not feel the need to announce their gender in such garish ways. This person might as well be wearing a sign around their neck reading, "Hi, my name is Tom McFatass and I live in my mother's basement."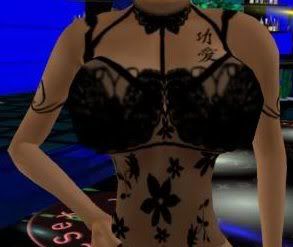 Laylah: As we travel up the body you will see just how small that waist is compared to the giant missiles attached to this person's chest. Now, far be it for me to tell you big boobs are bad, Hell, I'm known as 'Bewbs'... But the fact remains, these boobs are massively over sized and the curves aren't really curves at all; more like cliffs.
JellyBean: Cliffs? Are you kidding me? These are hot air balloons or air bags. Very very useful in case of a face plant into a sidewalk. They could possibly save his/her life.
Laylah: Lastly, we have the face. Usually square-jawed, as men don't pay too much attention to this. I wish it were simple enough as looking for an Adam's apple! Instead, we get the hair. Sometimes overly fem, usually just badly done. CrossAVers seem to be texture-blind when it comes to hair - at least this one is. Lets not forget the fact that the hair does not suit the face... and is badly aligned.
JellyBean: Do men ever line their hair up right? Nah, not really. I think it's more buy & wear - hope for the best for most. But yes, this very bad hair for a toothpick of an av with air bags & wide hips.

Oh, Snap!
An MG Blawg Post Series with Laylah & JellyBean. Two views on fashion, faces, and unfortunates combined into one general consensus.