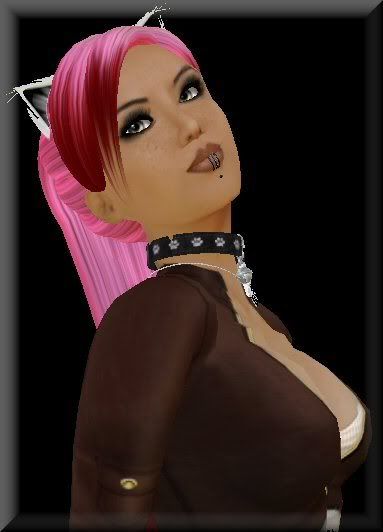 Ack! All the designers go on Vaca? Anywho, slow, as in turtle speed Fashion week. Okay by that I mean, no one released anything good. Wait, that's not entirely true. ETD did release new ab-fab hairstyles. Granted she waited til I only had 900L to release the four 200L each styles, evil Elika. Simply evil! Then of course Last Call released some stuff too. Thank you for making me poverty stricken. Thanks to you both I had to sell off a couple of my alts. I hope you feel good.
As for our review policy here at MGG2SL, since we do say we do fashion & all, I thought I should cover this. Well, we don't write puff pieces. If you need your ego rubbed & fluffed there are plenty of Frufru Fruity Style blogs out there for you to have your new design plastered all over with sticky sweetness dripping off the review page.
I'm not saying that we don't accept review copies... we also accept cash, all major credit cards, paypal, flowers, and chocolate. Just don't expect us to sugar-coat a review for you. It's not our thing. Review copies here will get an honest review with no fluffing.
For example: If you pass us a skin with the tatas looking sore & swollen or the whowho down right icky, we're gonna say so. Unlike other blogs, I have a huge issue with skin reviews. STOP COVERING THE GOODIES. If you want to do a review of makeup, just take a pic of your pixelated face. No need to full figure shoot the skin just to cover up the goodies (which so happen to be the most important features) with pics of happy faces or fruit! Seriously, what the hell is up with that?
Ok ok ok I digress. Let me restate, we accept review copies, if you are brave enough to pass them to us. Haha!