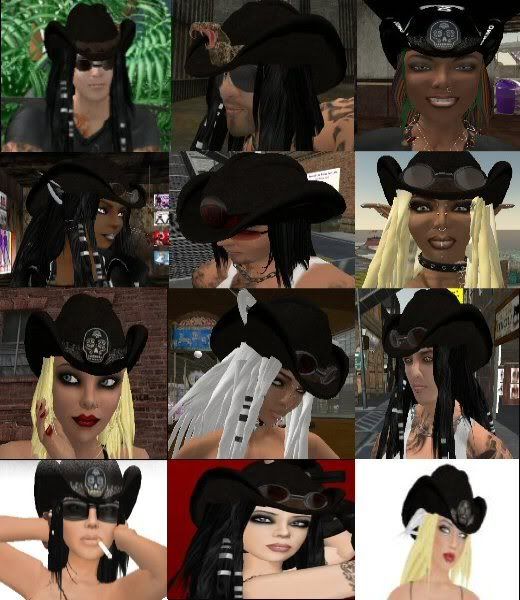 I have had way too much Iced French Vanilla Frappes this morning, so sue me. I'm hyper.
With Hair Fair this week, this amazes me.
Gritty Kitty
was not even involved with Hair Fair but spit out one of the hottest hat/hair combos to hit SL. Noam did a damn fine job on the New Gritty Kitty hat/hair combo (Gritty Kitty: Ministry & Zombie Dreads), but now that everyone & their mother owns it... I say let's draw straws. Everywhere I go, someone is wearing it. Yesterday I was at the Block (also known as the BBB) when a girl & a walking Block billboard guy stood next to me donning the newest do. Gah! Show of hands here... So who remmys being country before country was cool? Yah, s'what I thought. Shup!
It's okay to be original & random. The hair is mod/copy & no trans, as with most of the hair in your folders. So why not tear it apart & add a new style to it? You don't have to be a Gritty Kitty clone this week. I unlinked, relinked, tweaked & added my ETD Willis II - Pink Blackened style to the hat & relinked that bitch like nobody's business. Ha!
Everyone take it off... I CALL THIS WEEK!