I have to admit I do love new stuff from Stellar even if it is just the same skirts retextured with diff tops. I was so excited to see that Lexi Morgan of
Stellar Designs
had made some frayed jean shorts. I mean my ND ones are so very old & worn out now that I'm surprised there's any material left to them after years of wear. Then of course there was that time with the gearshift knob accident. Sigh. Anywho... I went straight to Stellar all excited like after seeing the ad on bloglines.
First of all designers, please kindly display your *new* stuff in the front of your stores. It's very convenient for us crazy mad shopaholics. Theres nothing I hate more than thongs on men, than searching for new shit. It'll piss me off & I will im you, then you will either A. get frustrated with me or B. laugh at me. Either way, it puts a damper on me wanting to go back. It's so aggravating to swim thru a sea of old shit looking for new shit.
Anywho... I bought three pair and what I got wasn't exactly what I had hoped for. Though they look ab-fab in her ad pic, what she failed to snap was the shorts in motion with diff people's AOs. Oh yes... I present Exhibits A, B & C.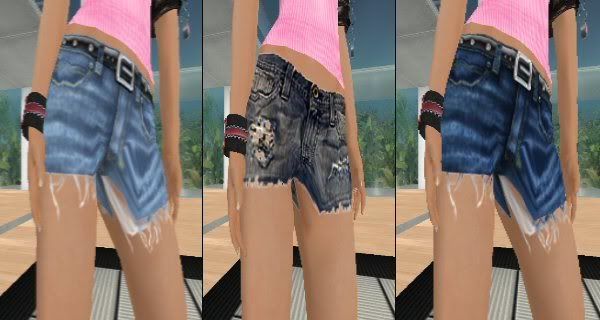 These are SD Denim Cutoffs - Dark Wash, SD Frayed Short Shorts 5, SD Frayed Short Shorts 6 in no particular order because well, that was too much like work. So anyways heres what I have... what appears to be a misplaced maxi pad sliding down my inner thigh, an entire triangle shaped mystery of missing material in middle pic, over creaminess mayhaps on the inner thigh again in last pic. I suppose if I were a good cowgirl, I'd be keeping my calves together and no one would notice but thats not how my AO rolls. So yah theres that, and the fact that I'm not a cowgirl at all. Hm.
The textures are awesome. All nice & denim-y. It's gotta be a bitch to make short shorts, because so often the insides of the thighs are so eep! I thought these would be different but sigh. *struggles to put back on the ND frayed shorts, sucking it in to button them*