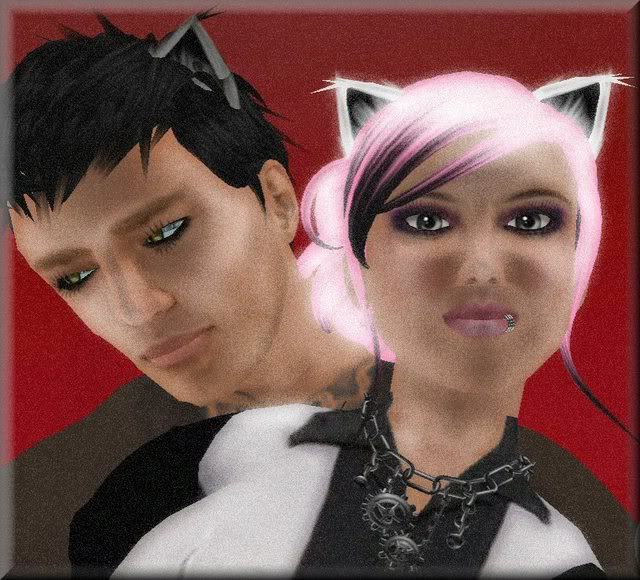 In my last post I totally forgot to add the definition of wooage. My bad. So I think it's best if I begin this one with a clear definition. Oh yah and I'm sure I don't need to point out to you that this is just my opinion, right? I didn't think so. You're such a good class. :) I'm not sure I should be writing the Wooage posts, but I didn't see any of the other bitches here jumping all over it. Haha!
Wooage: to woo. The feeling of "awwww" from any given word, action, and/or moment. The event or action that causes your heart to flutter and your entire body to feel like silly putty.
Now that I got that out of the way an entire post too late, we can move on. Guys are a little bit different when it comes to woo because a lot of men in SL are pretty damn slutty and for those men of course there are skanks-a-plenty. This post isn't for either of them, but I'm sure down the road, I could dedicate a post to the Meat Market.
I did some research this time and besides big pixelated tatas being considered a form of wooage on our part, I learned very little. Most guys don't have clue one on what the hell they like or what they'd consider a wooage attempt. The general consensus was that most of them prefer a straight forward woman that will im them first. To them, this is wooage, crazy as that may sound to us. It gets them interested.
Guys are not romantic by nature & anything usually taken as romance was either for the woman's benefit or a complete "oopsie". So romance is probably not a route we should take when trying to woo the male species. Different guys take stuff in different ways and most of the time anything done generally just inflates their ego... giving them a smile, or a wink could or could not be considered wooage on your part.
From the guys I spoke to today my stance is this, they love the first move but only when us girls make it. Thing is a lot of guys don't really know what they want, so by the girl making the first move they are like wOOt, yah it gets them all hoppity. So girls, that's pretty much it. Haha! There is no such a thing as wooing a guy. Not in their eyes anyways. We may think we're wooing by giving them time, attention, fussing over them, trusting them around our friends, dressing them, etc etc but to them this isn't wooage. This is a girl who has peaked his interests, occasionally gives pressies and could see himself spending more time with.
Of course regardless of your sex, be it male or female, humans (avatars) in general want to know they are thought of. You can all refer back to
Wooage 101 - How to Woo A Girl
on ways to let someone know they are thought of.
If I'm wrong guys, please let me know. I'd love to hear what more than the 12 guys I asked say.
Happy wooage attempts,
Jell-