Don't worry we're not trying to become fashion bloggers by this post. Sometimes we just feel the need to blog stuff that has to do with a new release in the fashion world. Okay, it more or less has to do with us receiving free shit from the fashion world. Guess who received free shit? *grins*
Mr. Anti-Fashion Fashion Designer has decided to dabble in hair. For those of you familiar with
Heroes
, Truth is like Peter Petrelli. He absorbs powers of those around him. The man is like a sponge. He's dabbled in machinima, couture, skin, and now hair. Depending on who he is currently attached to, you might find his inspiration range from a sudden need to include more pink in his offerings *winks*, to launches of skin and now stretching to hair. SL clearly became "as shallow as a spring sun shower puddle" when he decided to jump into the communal pool known as hair design. Truth Hair is an exciting new release of well done, subtle, and charming styles. The textures are the staple of colors, guaranteed to fit most requirements, but sadly offering no real deviation from the norm. I asked him not to make pink. Haha! I know, that's awful coming from me, but I prefer blonde with red tips to add my pink to. I, for one, look to textures to offer a broader variety such as darkened ends, or more eclectic coloring. This is me wearing Sunday in blonde, pinked, of course ("self photo taking pixelated lovin thy self" )... loving the lil wispy flexi ends that flutter around my neck. However it is just the launch of Truth Hair, and with the beginning of this new enterprise, I think the textures offered are adequate leaving room for him to grow as a hair designer.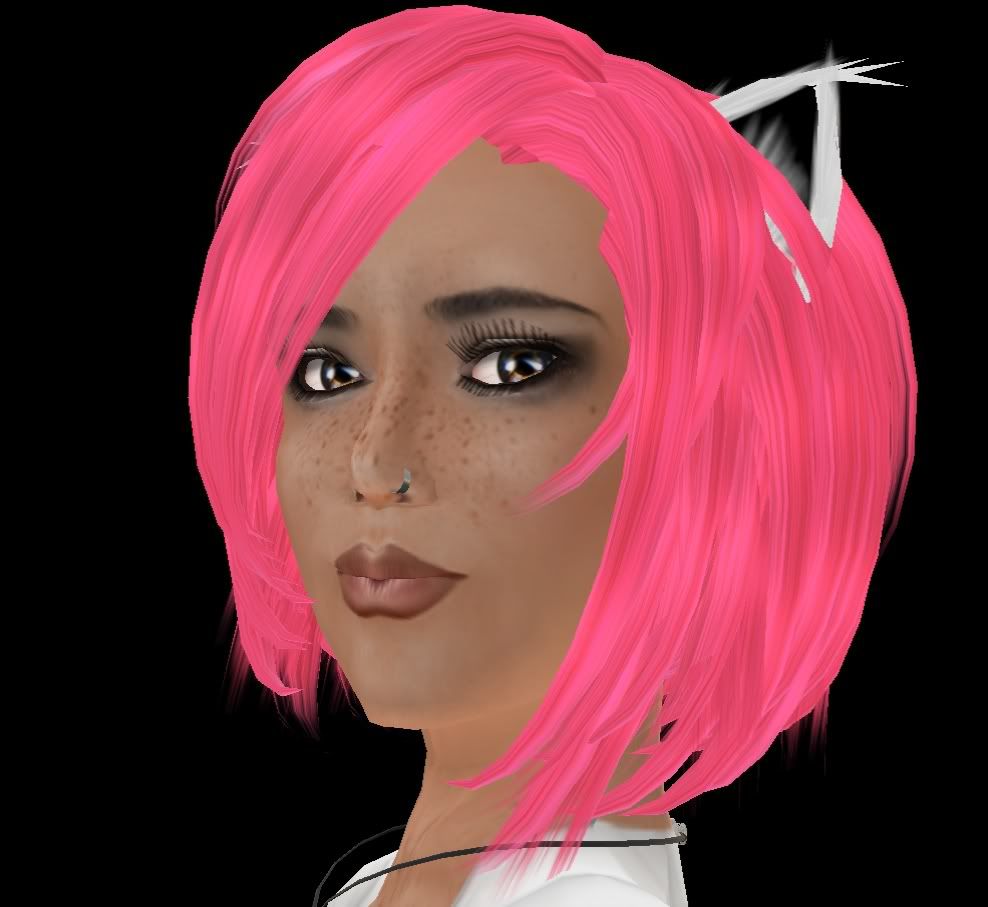 Does anyone else find it ironic that mister throw fashion in your face decided to lower himself to the level of offering review copies? Is he staying True to himself and his viewpoints by offering them up only to the fringe elements... such as ourselves? Could this ::gasp:: mean he cares what we think? Oh no, you mean it might matter that others like his work? Ya think? Sure, being an artist is a great thing. Caring only about what *you* think about your craft... kinda counterproductive to trying to be successful in business. Truth has portrayed himself to be the darling prima donna badboy of the fashion world. Demanding only evian in his trailer, and trashing hotel rooms gridwide. And yet, I'll allow it :P Truth shows the same precision and focus on details and the finished product that he always does. Talented, yes. Cuddly and friendly, notsomuch.
Hey, I'm easy. I don't have to like his politics in order to wear his hair. :p You can find the new hair at
*TRUTH*
or read his blog at
Truth Designs
.