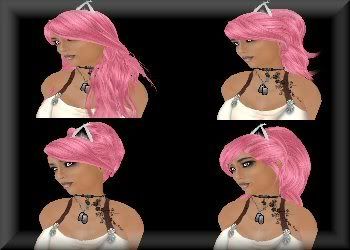 I know I haven't muttered a sound in awhile, but now I'm back with a thunderous roar. Everyone has gone absolutely gaga over the new sculpted prim craze. Sculpted clothing, sculpted art, and even sculpted hair!?! Erm, sorry it's not working for me. Newp, not even a little bit. Fad is not fashion people.
Is it my pinkness? Too much hairspray? Have I not washed it for a month? Is it just bad hair? I don't like it. Now don't get me wrong, I'm a huge fan of Naughty hair, especially since the new pink tones were released awhile back, but I'm not feeling the sculpted mess. It's not just Naughty either, I'm not feeling the Curious Kitties sculpted hair either. I keep seeing Oooo's and Ahhhhh's spewed over every fashion blog there is. Consider this the collective Ewwww from those who do not sugar-coat SL fash (okay, really just my collective... but in my world it matters, shup!).
I know I can't just come on here & say "I don't like it" and walk away. That's just not constructive. So let me state the reasons why I don't like it. The textures look bad on sculpties, they don't flow right & give an awful appearance. I'm not completely sure this can be corrected because of how the sculpties are made.
The bangs on sculpties look like a massive clump. Naughty made one style using flexi prims as well as sculpties (Nicole - picture above on left). The best creations in my opinion will be hybrids (mixtures of alpha, sculpted, flexi, and textures). Naughty took a step in the right direction on this one but fell short on the over-all appearance of it.
In the long run, I think that everyone really needs to find their sculptie legs & not rush to get the product on the shelves just because it's a new feature. People like me end up getting left disappointed and out of Lindens. Why don't you try the demo Jell instead of forking out the 300L per style? Well, the demos DO NOT come in pink so there is no way of knowing until I actually put it on that it's bad bad bad bad in pink. *Sigh* I've never been much of a demo person anyways. I think I'm finally learning my lesson though after 3 years. Lala seems to think I need a Demo Intervention but hey it's just tmlw.
My plea to Naughty is to just take more time working out textures (preferably the pink tones) before releasing the new sculpted styles in the future. Please do not let the sculpties become the be all, end all. We loved the styles before sculpted, please make more. Thank you